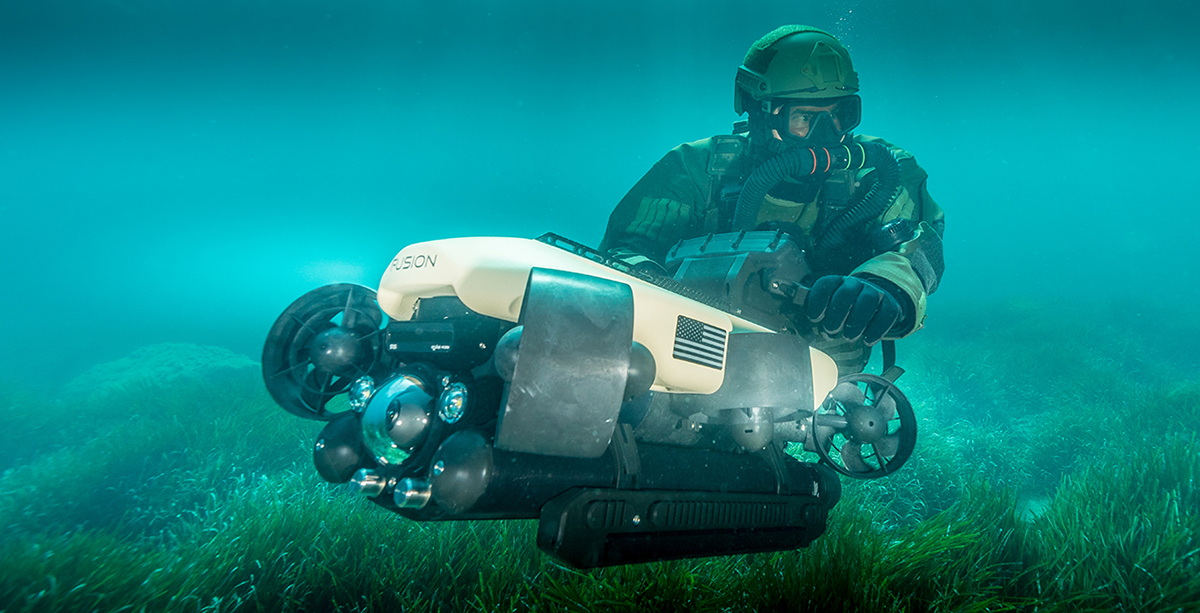 DIVER MODE
Expanding on the two (2) core functionalities of the FUSION is the addition of the Diver Module that converts FUSION into a diver propulsion and navigation system. Divers are able to utilize the onboard sensors for navigation, imaging and data collection while using the FUSION's thrusters for propulsion.
DIVER NAVIGATION AND SONAR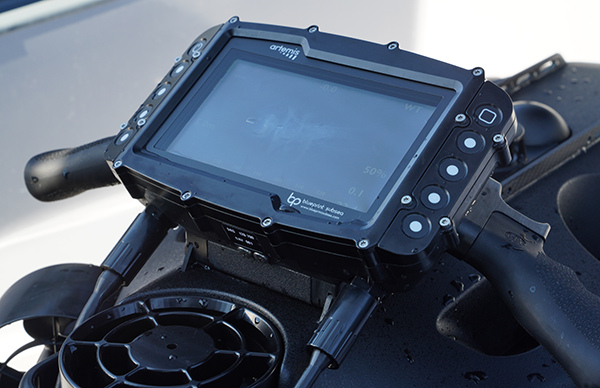 With the diver module installed divers are able to use the screen to display various data. The intuitive to use screen can be cycled through forward looking sonar, side scan sonar and navigation. Located on either side of the screen are a series of buttons allowing easy manipulation of the screen to provide the desired data.
Using the same intuitive user interface missions can be programmed and sent to the diver module for execution by a diver. During operation steering indicators, charts and location are provided to guide the diver. In addition to the navigation the forward looking and side scan sonar provide long range visibility. All data can be logged to the internal drive.
Navigation is performed with the same sensors FUSION uses in other modes including the DVL, IMU, GNSS and control / navigation algorithms. With an established position at the surface via the GNSS and bottom lock with the DVL the FUSION is able to navigate to marker locations.
DIVER PROPULSION
As an added benefit the FUSION vehicle thrusters offer propulsion to diver missions. The powerful and efficient thrusters provide assistance to divers to help reduce physical output. Taking the level of capability further is the ability for FUSION to hover once on location when the diver requires use of both hands and doesn't want the burden of holding the vehicle. Easily place in virtual anchor mode and use the FUSION for video recording or lighting.
Velocity ranges from 0.5 to 0.75m/s (1 to 1.5knots) depending on the diver equipment/bulk.
HOT SWAP POWER
The FUSION battery pods offer an endurance of approximately 3+ hours or range of 4-5 kilometers on one set of batteries. With a spare set of batteries the endurance/range can be doubled.
Batteries on FUSION can be hot swapped underwater by removing one drained battery and swapping in a charged battery and then using the same procedure for the opposite side. All possible without turning FUSION off.
THROUGH WATER COMMUNICATIONS
When multiple FUSIONs are in the water with the diver module installed it is possible for the divers to message each other acoustically. The simple to use interface on the diver module allows messages to be sent and received.
With the topside navigation pod / USBL communications are possible between a FUSION with diver module and topside personnel.