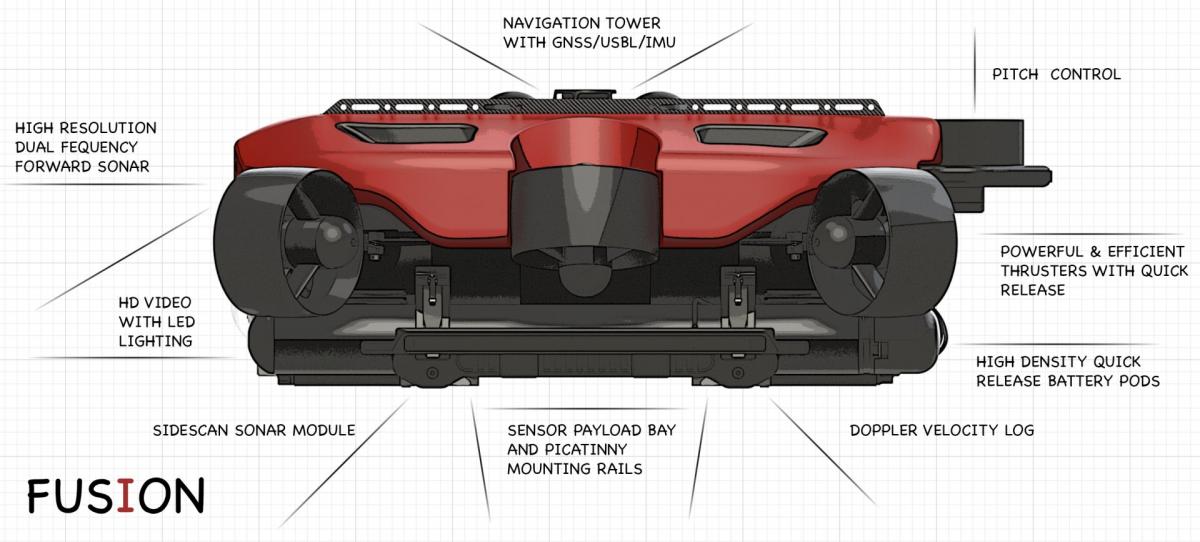 The FUSION is a fresh approach to underwater vehicles that exemplifies design, capability and intuitiveness. A departure from a traditional flexible platform to a tightly integrated system that is built around a high-end suite of sensors. Exhaustive attention to detail at every level establishes FUSION as the benchmark for professional underwater vehicles.

MULTI-MODE
As a battery powered system the FUSION has the unique ability to operate in different modes. Without the use of tether the FUSION operates as an AUV and with a tether attached as a ROV. A third capability includes the attachment of a module to FUSION enabling diver propulsion and navigation. One asset, one operator interface and multiple functions.
UNPARALLED VEHICLE DESIGN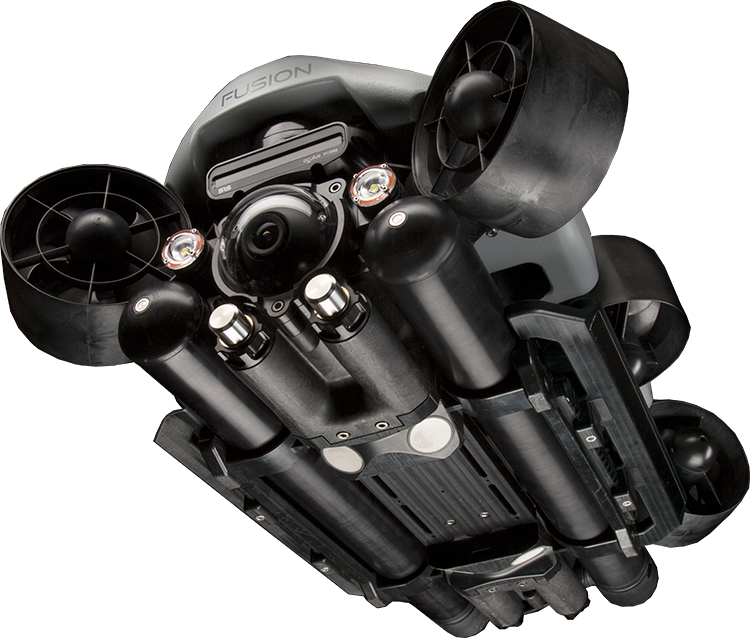 The FUSION design sets out to establish a more integrated, capable and intuitive underwater vehicle with careful attention to detail. From the velocity optimized thrusters to the hot swappable (even underwater) batteries to the computational fluid dynamics (CFD) driven vehicle design the FUSION is unmatched.
Emphasis was placed on creating a vehicle that offers exceptional operator experience in operation, maintenance and expandability. Quick disconnect thrusters, use of a single fastener, high end composite materials and so much more are evident in every detail of FUSION.
COMPREHENSIVE SENSOR SUITE
The FUSION departs from the traditional flexible platform approach and incorporates a suite of high-end sensors designed to enable operators to accomplish complex missions. From a variety of imaging sensors to navigational aids the FUSION is a tightly integrated system that improves vehicle dynamics and eliminates troublesome cables/connectors.
Imaging Sensors - Forward Looking Multibeam Sonar, HD Video and Side Scan Sonar
Navigation Sensors - DVL, AHRS, GNSS, USBL, Pressure and Temperature
Beyond the included sensors are optional instruments to augment the capability of the FUSION. The optional sensors are designed to quickly interface with the FUSION system through auxiliary ports, picatinny rails or the unique utility cavity located on the underside of the vehicle.
INTELLIGENT CONTROL AND NAVIGATION
Another aspect in which FUSION excels is the intelligent control and navigation system with intuitive supervisory control improving operator confidence and maximizing the quality of data collected. Vehicle characteristics and dynamics are carefully mapped to help improve responsiveness, stability and predictive nature.
Careful attention was given to the choice of navigation sensors as well as the mechanical installation to ensure accurate feedback and precise data.
FUSION has attitude control, station hold, waypoint navigation and path following. The simple to use interface provides even inexperienced operators with confidence to complete demanding missions. No need for a dedicated engineer to run the automation system.
HUMAN MACHINE INTERFACE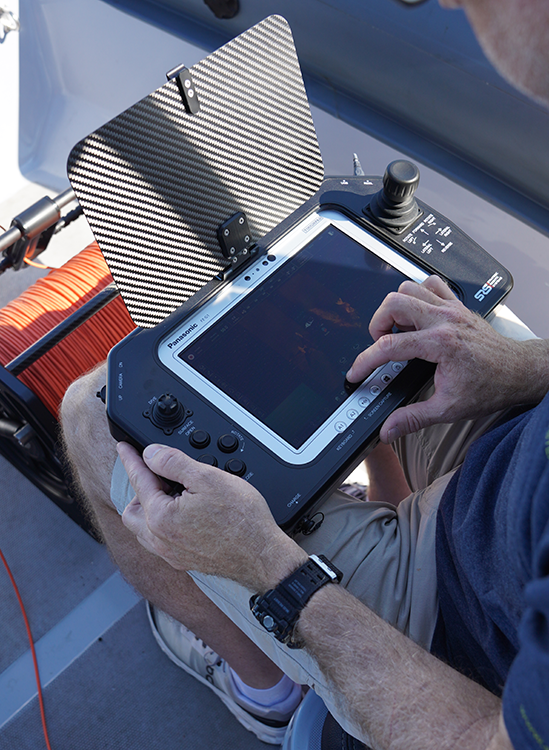 Maintaining the portability of the FUSION system are the Human Machine Interface (HMI) controllers. There are two (2) options that cater to different requirements yet both provide full system control, mission programming, mission analysis and completely self-contained.
HMI Compact
The compact unit is a single touchscreen design with physical controls offering handheld operation where footprint is a premium.
HMI EVO
The EVO design incorporates a dual screen and removable touchscreen tablet in a "briefcase" design. Added screen real estate to spread out the data.
Each HMI is designed for use in demanding environments.
INTUITIVE USER INTERFACE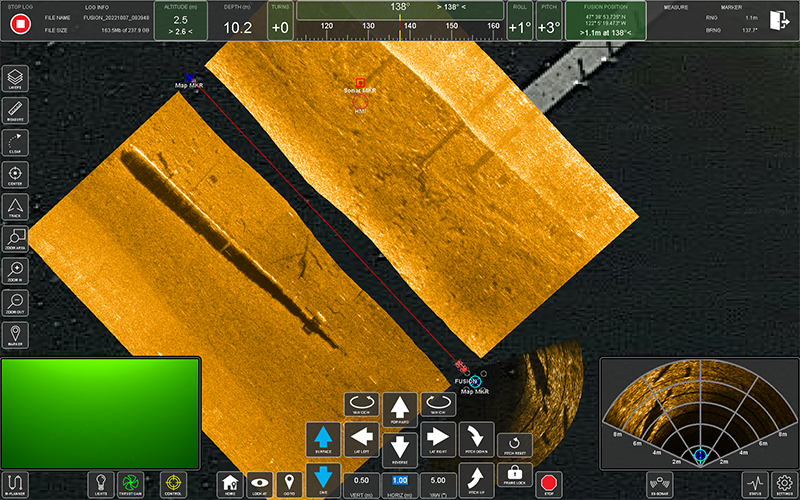 Expanding on FUSIONs capability is the intuitive user interface (UI). Designed in house the UI is a comprehensive suite of mission planning, real time control, post mission analysis, report generate and more. Gone are the days of operators needing a software engineering degree.
Optimized for use on the HMI touchscreen the UI is simple to learn by even the most basic of operators while providing extensive capabilities for advanced functionality such as forward looking sonar mosaic, side scan sonar mosaic, automated report generating and acoustic wireless control.
LOW DRAG TETHER AND REEL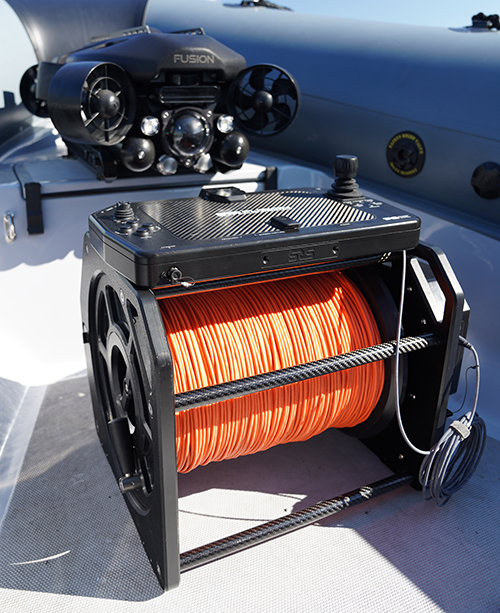 As a ROV the FUSION tether and reel continue to raise the bar. Being a battery powered system the FUSION benefits from only requiring a data and communications link to the surface. The result is the ability to use an ultra-small diameter tether.
There are two (2) types of tethers offered for use with FUSION.
Copper Tether
A small 3mm (0.12in) diameter copper tether available in a 500m (1,650ft) length.
Fiber Tether
The optional fiber optic tether is 2.75mm (0.11in) in diameter and available in various lengths from 500m (1,650ft) to 2,000m (6,560ft).
Both tethers provide high bandwidth for FUSION and fitted sensors as well as strength to recover FUSION and objects.
Managing tether can be a challenge, but not with the compact, lightweight reel. The reel includes a line counter, level wind and quick change spool. Additionally, the reel is battery powered (electronics) keeping with the "no generator" design of the FUSION system.
SMALL EXPEDITIONARY FOOTPRINT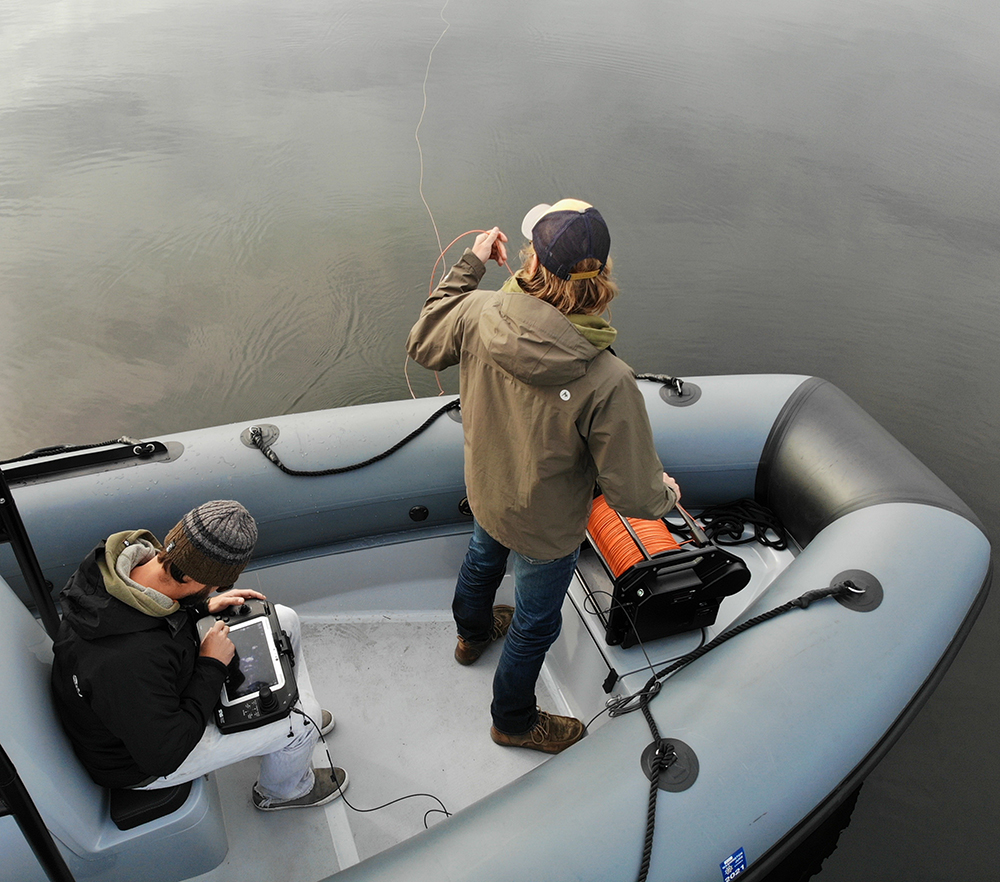 The FUSION system is designed to operate from incredibly small platforms with no requirement for power. All system components including FUSION, reel, controller and USBL are battery powered. All the battery power to operate for more than 8 hours without charging.
No GENERATOR required.
With the minimalist footprint the FUSION can be mobilized on platforms such as 4.8m CRRC boats.
EXPANDABLE CAPABILITY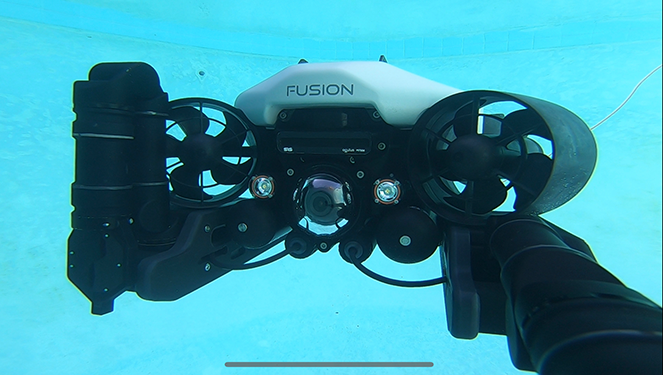 The FUSION is not just a well-equipped and capable ROV system, but an expandable sensor collection and manipulation tool. A variety of tightly integrated options are available to enhance mission capability requirements. Four (4) auxiliary ports and a unique modular utility cavity offer easy mission configuration.
Two Function Grabber

Two Function Continuous Rotate Grabber

Dual Five Function Manipulator Package

High Strength Cutter

AUV (untethered) Mode

Side Scan Sonar (ROV or AUV mode)

USBL Positioning System

Payload Release Mechanism

Payload Containers

Zero Point TiTAN Disruptor Integration

Wireless Remote Connection

And more....