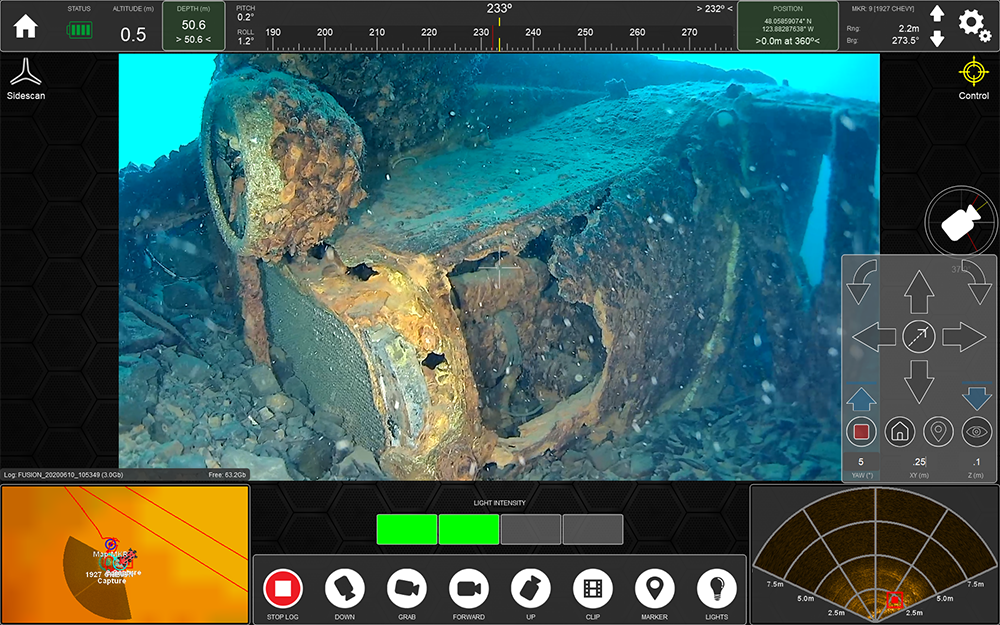 FUS
I

ON VIDEO

The first sensor of most underwater vehicles is the camera. FUSION comes standard with a high-definition color camera to capture high quality video in the typical poor visibility conditions where underwater vehicles operate. The 1080P HD camera is an ultra-low light camera and comes standard with dual LEDs to illuminate when ambient light is not sufficient. Tilting through 180 degrees provides vertical viewing for down to up and in between.
SOFTWARE

Video is streamed directly into the FUSION user interface in ROV mode or captured internally when operating in AUV or DIVER mode for access post mission. Logged files include video, which is synchronized with all other sensor data including position and sonars.
The FUSION user interface provides intuitive controls for tilt, presets for camera position, lighting controls and configurations for secondary or third-party cameras fitted. A picture in picture window provides real time viewing of multiple cameras simultaneously.
Additionally, markers can be placed at FUSION's location from the camera controls. When the marker is placed a screen capture is taken and georeferenced along with the marker properties. All collected data can be part of the automated report generation in the log files.