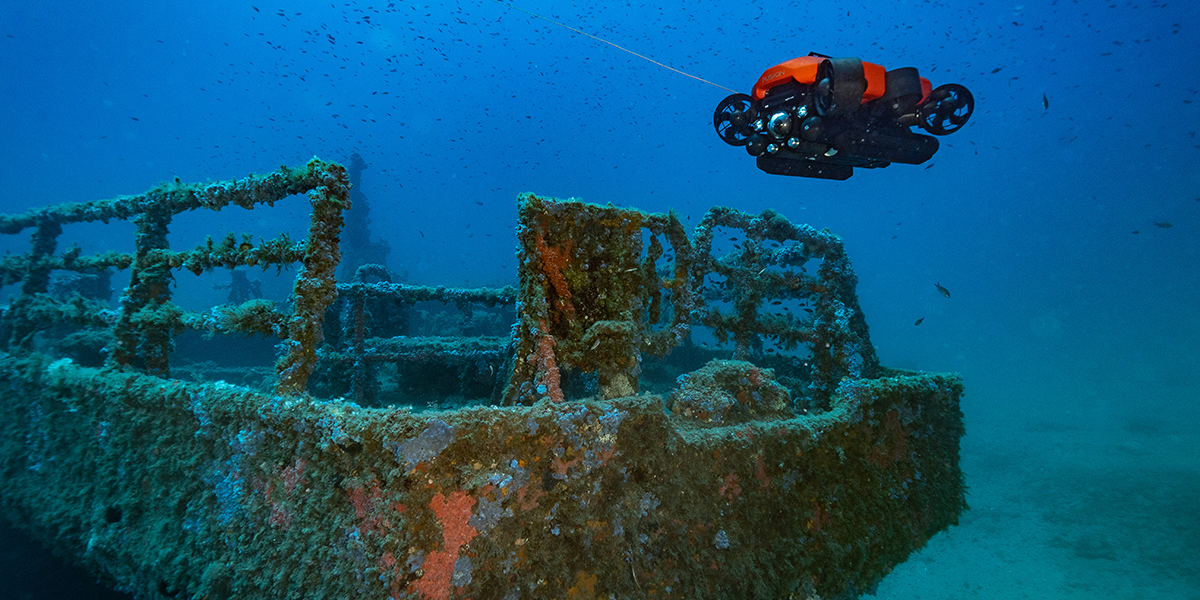 ROV - Remotely Operated Vehicle
When FUSION was developed the core function was as a remotely operated (tethered) vehicle that would depart from the traditional approach to poor integration, compromise and intuitiveness. From the ground up FUSION was designed to be an expeditionary class, intuitive and tightly integrated system.
COMPLETE SYSTEM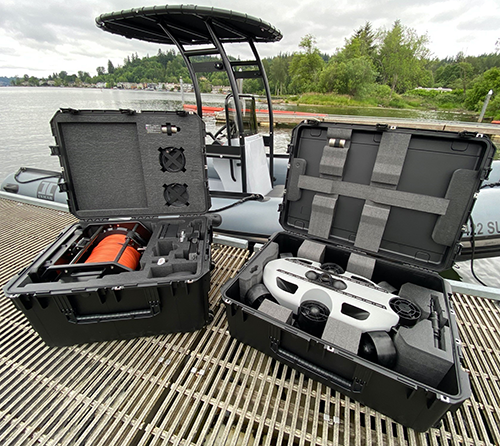 There are essential capabilities and sensors to accomplish most real-world applications that include such items as forward-looking sonar, high resolution video, navigation sensors, supervisory control and intuitive control system. Beyond the primary functions are an array of application specific options such as manipulators, payloads and third-party sensors.
Where FUSION deviates from the normal is that the critical sensors, capabilities, components are standard and not optional. The result is a vastly improved experience.
Standard Sensors / Components / Features
Forward looking multi-beam sonar
HD forward video with LED lighting
Doppler Velocity Log (DVL)
Attitude sensor (IMU)
Pressure/temperature sensor
Tether on reel
Human machine interface (HMI)
Full system battery set with spare set
Battery charging system
Supervisory control autonomy
Cases, spares, tools, manuals
The only required item not supplied is power to charge the batteries.
Visit the Options section to learn about additional capabilities.
EXPEDITIONARY - NO GENERATOR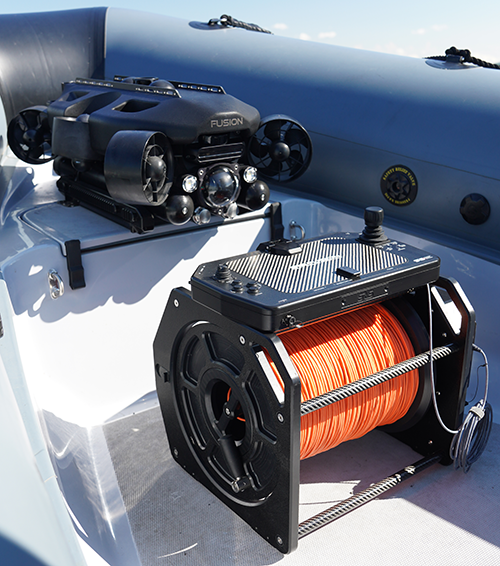 The entire FUSION system is self-contained and battery powered. Gone are the days of noisy and smelly generators. FUSION has hot swappable battery pods, the reel is battery powered and the HMI is battery powered. The entire system has an operational time exceeding 4 hours and each item comes with a second battery to keep operations going.
Lack of generator is only part of the impressive small footprint that the FUSION system has. The topside aspect of the FUSION system (reel/tether/HMI) are all compact and require minimal deck space. No special requirements for deployment and recovery as the FUSION is man portable.
Mobilization List
FUSION Vehicle - 27.5kg / 60lbs
Reel with 500m (1,650ft) tether - 13kg / 28lbs
HMI Compact - 3kg / 6lbs
Interconnect Cable
Total Weight - 43.5kg / 96lbs
Total Footprint - 0.5m2 / 5.4ft2
OPERATIONAL MODES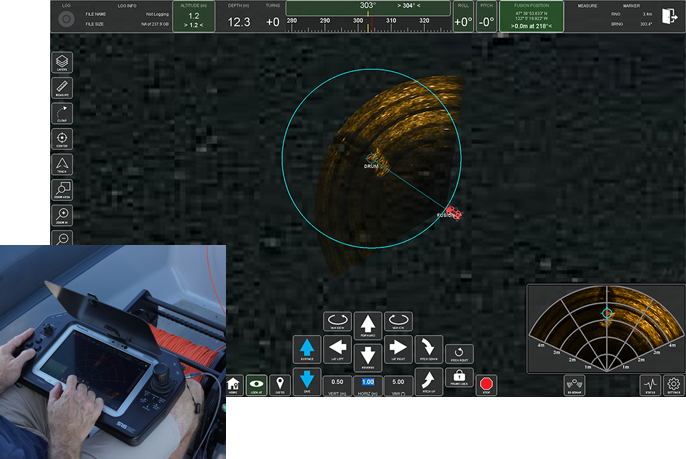 FUSION is designed to increase operational efficiency and capability through the intuitive controls and autonomy. Becoming a competent operator requires only minimal training/education. There are three (3) primary modes of operation.
Joystick Mode
In joystick mode the operator has full manual control of the FUSION via the hardware joysticks. At any time the operator can add in levels of autonomy including:
Heading lock
Depth / Altitude lock
Roll stabilization
Pitch stabilization and lock
Station hold
A simple touch on the screen enables any or all of the functions. Typically joystick mode is used during deployment and recovery.
Control Mode
After deployment the most common mode of operation is control mode. Once enabled FUSION enters system hold with station hold, heading lock, depth/altitude lock and pitch/roll stabilization. The joysticks no longer control FUSION, but rather the onscreen controls.
The onscreen controls include:
Surge - forward / reverse
Sway - lateral left / right
Yaw - rotate
Heave - dive / surface
Pitch
Go to marker
Look at / orbit marker
Return to home
Course lock
When using the controls the increments can be adjusted to operator desired values.
Mission Mode
Mission mode uses programmed paths created in the mission planner. FUSION follows the path designed at a desired velocity while providing real time sensor feedback to the operator. At any time the mission can be paused or aborted. When paused FUSION enters control mode enabling the operator to investigate targets of interest and resume to continue mission.
Visit the User Interface section to learn more about the software interface controls of FUSION.
REAL TIME INTERACTION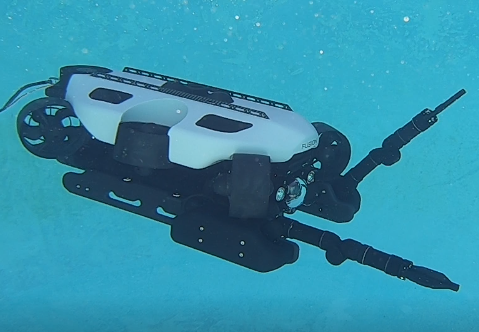 The clear advantage of the tethered system is real time feedback from the FUSION. Vast amounts of information, data and imagery are available to the operator as well as control of a variety of tools/payloads. Onscreen or hardware controls are built in to allow use of different manipulators, payload release mechanism and third-party equipment.
Visit the User Interface section to learn more about the data and information that can be visualized on the HMI and the Options section to learn about manipulators/payloads.